White Dove Release Professionals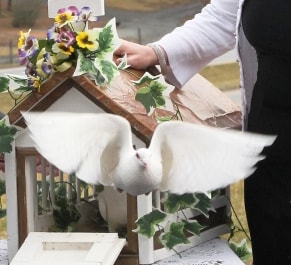 The release of white doves at funerals, memorials and life celebrations is a meaningful and touching way of commemorating the life of your loved one. A dove release is a very versatile service that can be modified to adhere to most religions or beliefs. The practice of a dove release is becoming a tradition for many people in all walks of life. Doves have been likened to "Angels" and can be released with that very symbolism in mind.
For centuries the white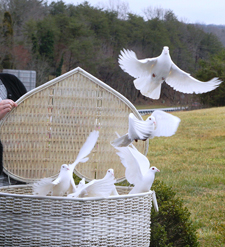 dove has symbolize love, peace, hope, and the spirit of the soul. A white dove release can be carried outusing these comparisons as well. Or you may choose to use a Trinity release symbolizing the Father, the Son, and the Holy Spirit. Please go White Dove Directory Home Page to locate the appropriate link for the state or country in which you wish to find a professional white dove release company to book a dove release for your loved ones funeral or memorial.