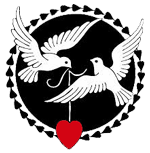 White doves released at weddings can be symbolic with a specific number of doves, or it can be a celebration of new beginnings and love with larger numbers of doves. WhiteFantail Display doves have been used in ceremonies throughout the world for centuries. As white wedding doves soar into the skies with a rush of wings, your guests will be astonished at their beauty. As the birds circle the heavens around the ceremony, they will create memories that your guests will talk about for years to come.
Many dove release companies also offer beautiful white dove displays to go along with their dove releases. A dove display can make almost any occasion even more astounding! Imagine doves set up beside your guest book or adorning the entry way to the chapel.Dove displays make excellent photo opportunities for your guests!
White Fantails on display at a garden wedding. These birds are beautiful but should never be released as they have almost no survival skills.
Not all white dove release
companies are the same!
They don't do business the same way. They don't all have the same equipment, nor do they decorate the equipment the same. Some don't even offer release equipment at all, just a cardboard box or wire cage. I would like to say you get what you pay for, but that isn't always true. Let me give you a scenario:


You are interested in a dove release for your wedding. You check around and find out there are two companies that can serve your needs. So you check with the first dove release company, see all of the equipment offered, and get their prices. But you want to check with the second dove release company also before you book. This of course is good sense and encouraged. So you call the second company and get their prices and WOW! What a great deal! So you book immediately. Then, on your wedding day the "dove guy" shows up with some birds in a box. Then you realize that you didn't ask some very important questions of the second company.


Moral of the story: Not all white dove release companies are the same! There is no standardized equipment for the dove release industry. Therefore it's very important to wedding releasemake sure you know what you're getting before you book. Shop around! By this I don't mean just check the prices. I mean check their web sites and see what they offer. Look at any release package options they offer as well as the dove release equipment they offer. Talk to the people in person and visit them if possible.
Another very important point is to make sure that you get an experienced handler to bring the birds to your wedding location and set up the equipment. This can be vital to having that stunning white dove release you've always dreamed about! The dove handler should be well dressed (appropriately dressed) and arrive early to get the beautifully decorated baskets set up and in place.
A qualified handler will be with or near the birds through the entire ceremony to make sure the birds remain safe while everyone else's attention is diverted to the ceremonial proceedings. Also, the handler will be able to coordinate with the photographer and videographer so they have the best opportunity to capture that magical moment on film when the doves climb high into the sky for you to enjoy for years to come!
Then at the proper predetermined time the Bride, Groom and the entire wedding party can take part in a beautiful white dove release! This awesome sight will be remembered and talked about by your guests for years to come!